Richard and Helena Girdler
Our Tour of Delhi, Agra and Jaipur
Left Gatwick Saturday evening and arrived in Goa on Sunday. We had a few hours before our flight to Delhi and had a break for lunch at a local hotel. The flight to Goa was delayed so we spent almost as long at the airport in Goa as at the hotel.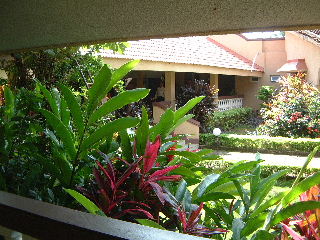 Arrived in Delhi Airport and met the three other people on our tour, Geoff, Nicky and Gwen. We were greeted at the airport by hundreds of people waving cards with names on and it took nearly 30 minutes to find our guide. We transferred to the Claremont hotel. Had a bit of trouble with the shower and leaking bath but otherwise a reasonable hotel and big room.
We started with a tour of Qutub Minar just south of Delhi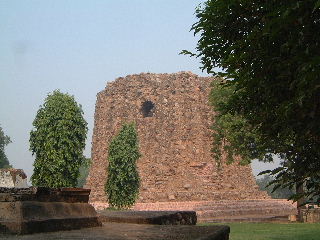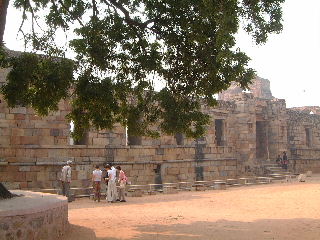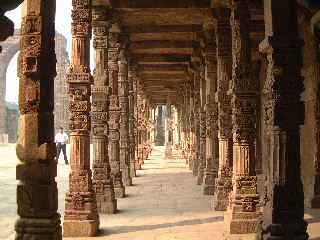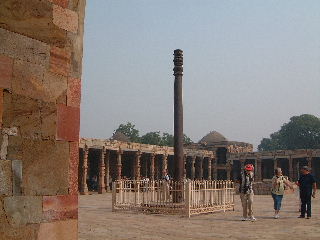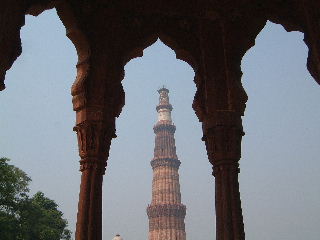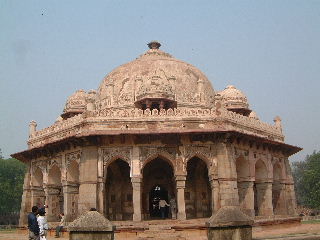 Isa Khan's Tomb built 1547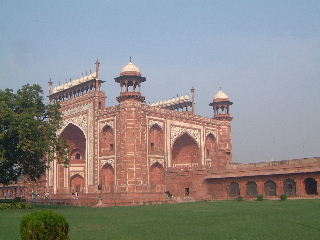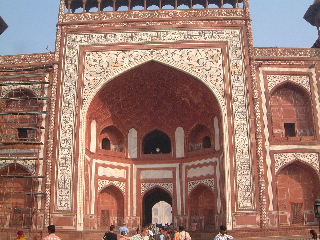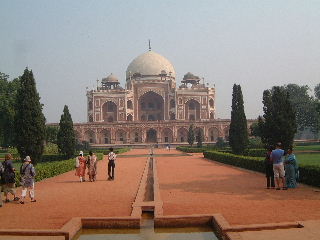 Humayun's tomb, built by his widow, and was the inspiration for the Taj Mahal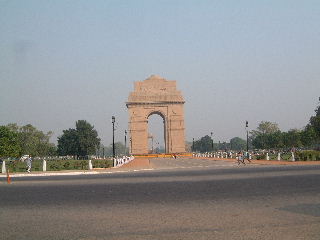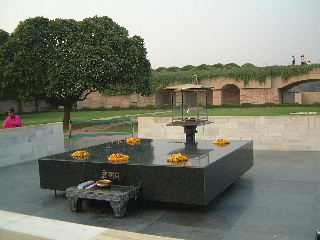 Mahatma Gandhi Cremation site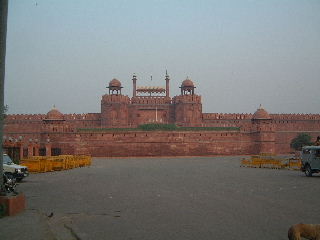 finishing with a drive through very crowded old Delhi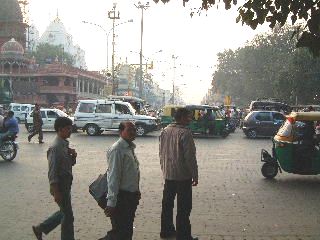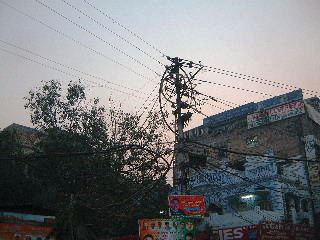 General Traffic in Delhi Some safe looking wiring in old Delhi
Spent a lovely evening with Helena's cousin Fatima walking around Delhi and visited her flat.
Early transfer to Delhi train station to leave on the 6:00 am first class train carriage to Agra. The guide wanted to avoid the front of the station with our cases as it was absolutely chaotic, even at 5:30 am. Lots of beggars, people sleeping on the streets and people wanting to sell you something. To avoid all this we drove around several back streets and the guide and driver carried our cases across the railway track on to the platform in the dark and then stayed with the cases while we drove around the front to get our tickets. All a bit James Bond-ish but it seemed to work and we boarded the train. A big foggy (and hot) but the train was air conditioned and we arrived in Agra in about 2 hours. The station at Agra was very busy but we found our coach OK and drove to see the Taj Mahal. Then off to see Agra fort before arriving at our Hotel.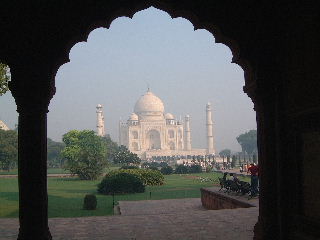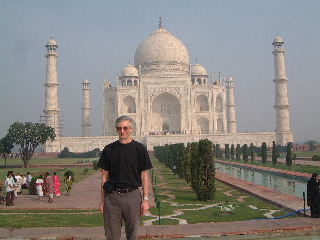 The Taj Mahal - A truly amazing building built by Mughal emperor Shah Jahan in 1630 in memory of his wife Mumtaz.
He was going to build a black replica on the other side of the river but his son decided he was spending too much of the family fortune and had him locked up!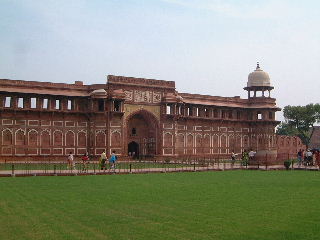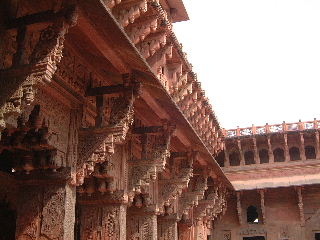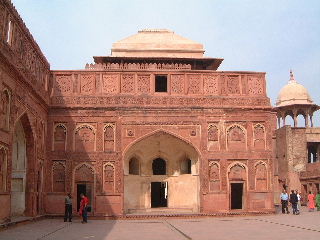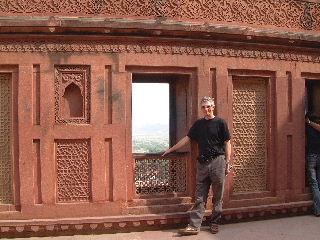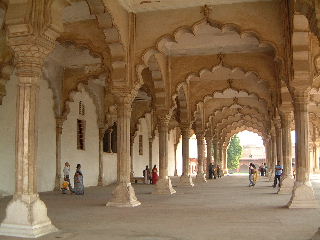 Agra fort built in 1565. This stretches for over 2 km. We walked for a good 2 hours and still did not see it all.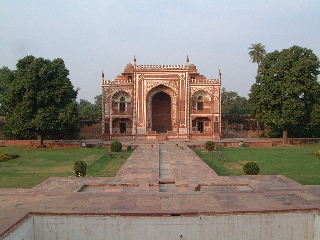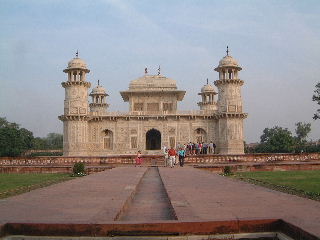 We spent overnight in the the Mansingh hotel which (after we changed room) was very good and we had a lovely meal in the restaurant (yet another Indian curry)
The following morning we boarded the 8-seater coach and "drove" to Jaipur which took some 6 hours. I use the word driving a little loosely here as it is a little bit different to England. Firstly there are no rules! If there is a bit of road that does not have another car, rickshaw, auto-rickshaw, bike, cow, bicycle or person on it then you can drive on it. Any road markings (and there aren't many) are purely road art and are not meant to be obeyed. So you put your foot to the floor, and keep it there, put one hand on the horn and just overtake all the time, on either side, even if the gap is not really wide enough and there is a big lorry coming straight towards you. Probably the most scary was one section where they were widening the road, and to prevent anyone driving on it they had scattered large rocks all over. Not to be discouraged our driver overtook a bus on the inside while dodging the rocks (had to close my eyes at this point).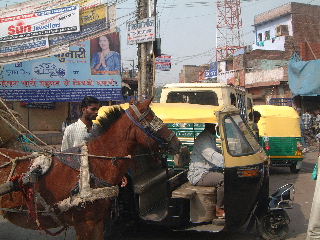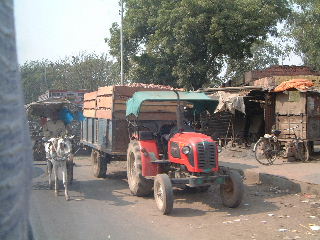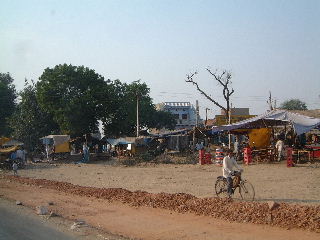 Driving from Agra to Jaipur
Just outside Agra we stopped at Fatehpur Sikri citadel. Another immense set of buildings which took several hours in the heat to see.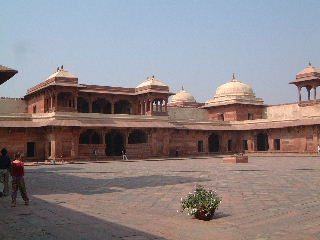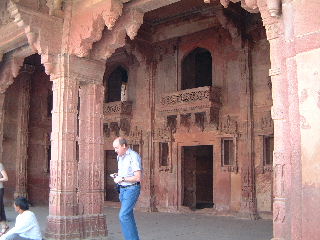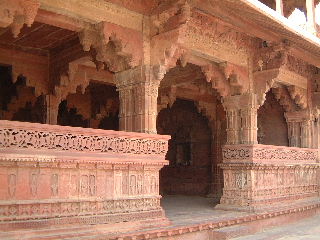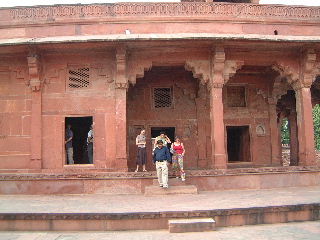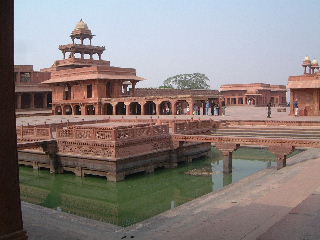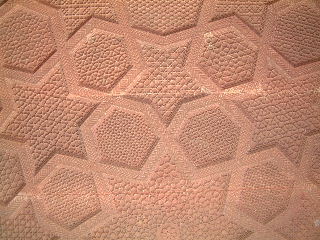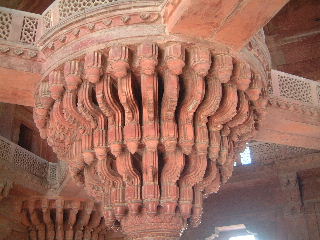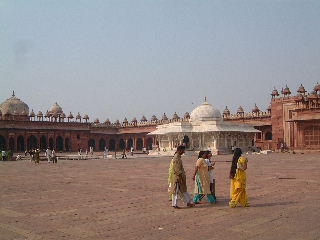 We eventually arrived in Jaipur and as our original hotel was booked up, we were upgraded to the Clarks Amer for two nights. A very posh business style hotel and as good as any I have stayed in on business trips.
Thursday/Friday 8/9 Nov 2006
We spent two days in Jaipur. This has been called the pink city ever since Maharaja Sawai Jai Singh II built it in 1727. All buildings within the city walls are painted the same red colour (not really pink)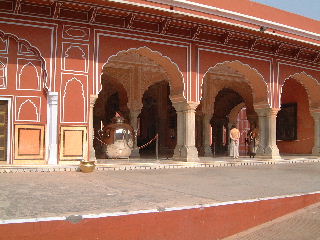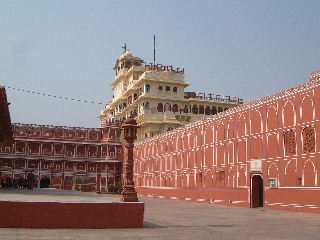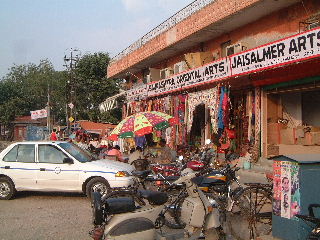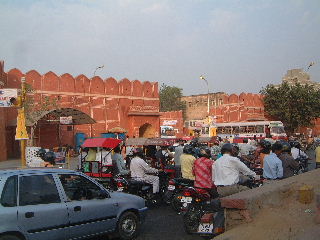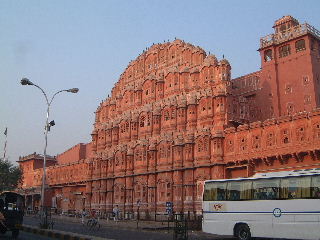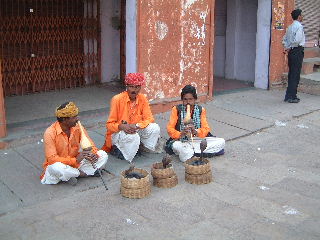 Palace of Winds and some snake charmers
The afternoon was spent visiting the City Palace which started with an elephant ride up the hill. All a bit hard on the back as they sway a lot as they walk.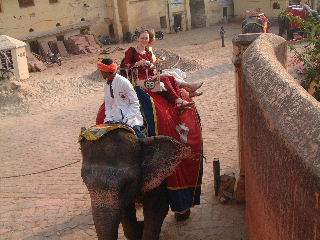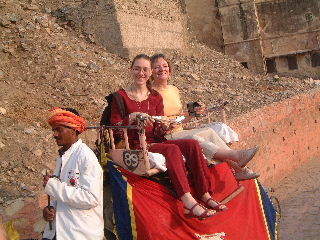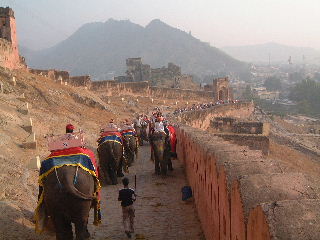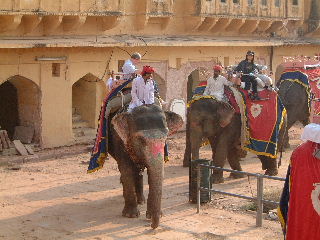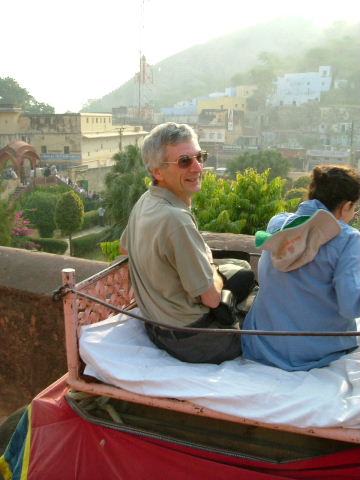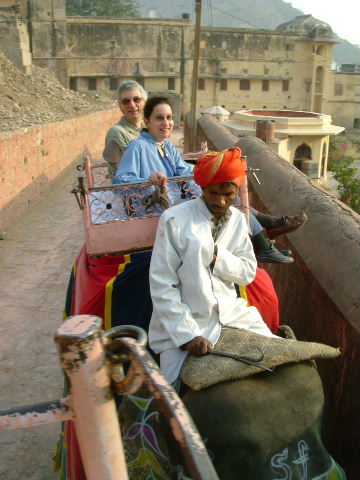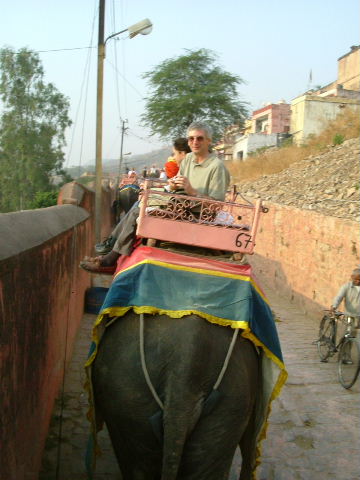 Elephant rides up to Amer Fort. The pictures are of the other people on the tour Nicky and Gwen, and Jeff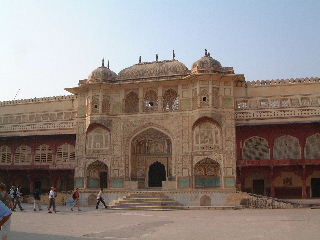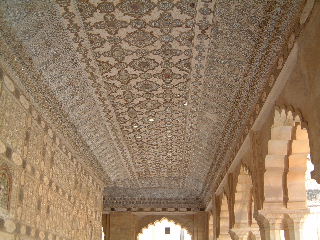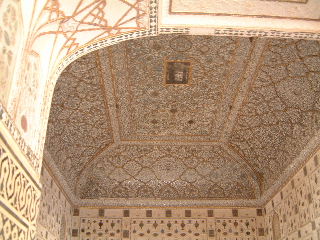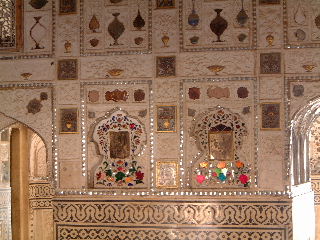 Hall of Victory within the Amer fort. The walls and ceiling are all inlaid mirror tiles and semi-precious jewels.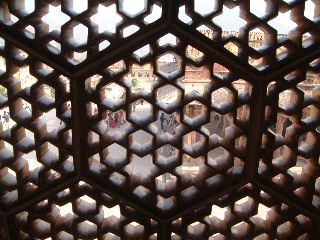 The garden and a panel carved from one piece of marble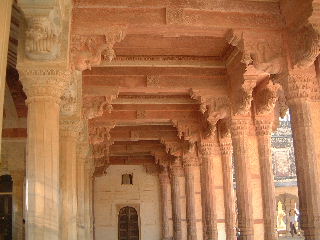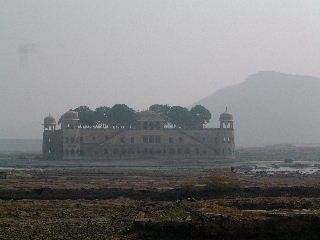 City palace just outside the city walls.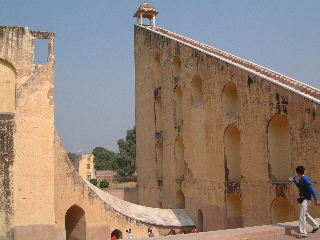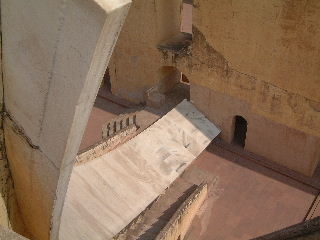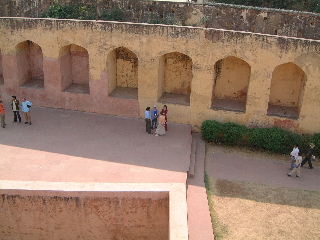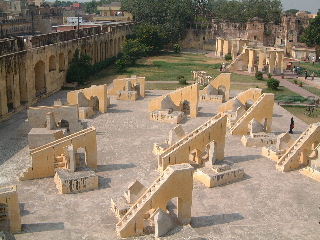 Finally the Observatory. This is a huge collection of sun clocks and instruments depicting astrological data. Jeff and I decided to climb the largest one at some speed and the steps got steeper the higher we climbed. On returning back down and standing still for a few minutes neither of us could move. The next two days I found it very painful to go down slopes or steps.
This was the end of a lovely 5 day tour and the following morning we were transferred to Jaipur airport for a flight to Mumbai, 2 hours to change terminal and get the flight to Goa where we were met and taken to the Heritage village hotel for 2 weeks visiting Goa and our family.